Tile for Your Kitchen and Bathroom
You may not notice it but you spend a lot of time at home in your kitchen or bathroom. Updating those areas with even the smallest changes can make a really big difference. Brent's Carpet One Floor & Home is here to help you bring the style back to your outdated kitchen or bathroom. If you are considering updating the flooring in your kitchen or bathroom, you should come visit our showroom and take a look at our tile collection. Our flooring professionals know tile well and can help you find the best durable option for your home.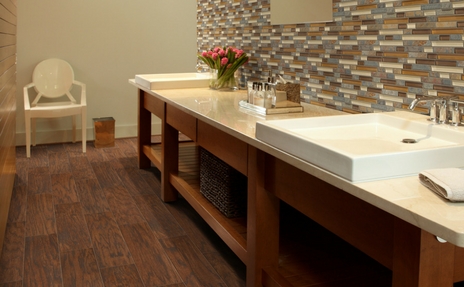 What Flooring Options are Best for Kitchens and Bathrooms?
It is very common for homeowners to choose tile for their kitchen or bathroom because of its durability and easy maintenance qualities. When it comes down to how durable tile is, you can expect it to be resistant to moisture, heat, and staining. Some tiles even feature slip resistance, which is perfect for bathrooms. Tile is also versatile in terms of style and comes in a variety of shapes, sizes, patterns, colors and more.
Porcelain and ceramic tiles are the two most common residential tile flooring options for kitchens and bathrooms. Porcelain tile is denser than ceramic, so it is more resistant to moisture and even heat. Ceramic tiles are light-weight, budget-friendly, and come in a variety of colors. The durability of tile also plays a role, because they are resistant wear and fade from frequent use.
Custom Tile Shower
Our porcelain tile collection is not just great for flooring, we also offer options that can installed as custom shower tiles. Shower tiles are made to be extremely resistant to heat and moisture, and since they are tile, they are super easy to keep clean. A tiled shower in your bathroom not only adds style but also value to your space. You can transform your bathroom into a personal retreat.
Kitchen Backsplash Tile
An inexpensive and stylish way to update your kitchen or bathroom is by installing backsplash tile on your walls. This means you do not have to worry about ripping up your flooring or tearing out your shower. Wall tile and backsplash tile are durable and easy to clean. Unlike wallpaper and paint, they will never fade or discolor. When it comes to humidity, tile will not peel like wallpaper tends to. You can choose from different patterns or create a picture on your wall, with backsplash tile the possibilities are nearly limitless.